Har Mar Superstar, Tonight at OC Observatory
There is going to be more than one Jam of the Weeks because there are a lot of sweet jams out there that you should know about - but honestly this is probably the sweetest jam I have to offer.
The story of how I was introduced to Har Mar Superstar is going to be the subject of another post which will be titled "Best Night Ever" - and when I say "Best Night Ever" - I don't mean the best night ever for me - I mean the best night in history.
When I found out my husband was deploying, my first thought was "<insert crying/wailing/life is unfair/rending of clothing>" but my second thought was "oh man, now I'm going to miss my planned trip to see Har Mar play in Iowa."
Well, imagine my great joy when I discovered not only did I not have to travel to Iowa, the state with the ugliest state capital building, but that Har Mar was going to be playing at the OC Observatory, just across the street from my kids' fencing gym!!!
So here's my favorite song. Listen to it before you scroll down.
WOW! THAT'S AN OLD SCHOOL JAM!
WARNING! WARNING! THE FUNK HAS GOT ME AND IT WON'T LET GO!!!
I want you to know that all of that sound - that amazing, rich, soul/R&B sound - is coming out of a balding, overweight white guy who is 4'6" - and he performs basically nude. His act is sweaty, raunchy, and basically disgusting.
Is it a more talented Ron Jeremy? Or a perverted The Critic?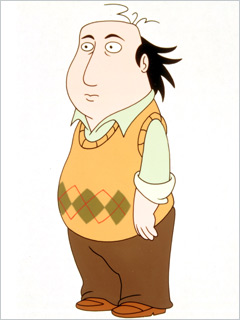 And you know what? This guy kills it. Kills. It. He's such a great performer, such a great showman, that the schleppiness of his look and the raunchiness of the act: you don't even see it. All you "see" is his vocals. The guy exudes talent and charisma and really made me re-evaluate why sounding like an Otis Redding-inspired demigod while breakdancing and belting it out while upside down IN A HANDSTAND wasn't good enough.
And just check out this bizarre/fantastic video showing 90s icon Juliette Lewis in a bike-off at a Brooklyn warehouse party. As one does.
So, if you're in Orange County tonight, go see him. And check out this link for tour dates - he's hitting up most of the West Coast and the Midwest before European Festival season.